Graduation ordering is not yet open.
All registered 2018 graduate families will be notified when the 2018 order period commences.
RRHE Instructions for Ordering Caps, Gowns, and Diplomas
Each family will need to order their cap, gown, and diploma directly from HSLDA. RRHE will pay for these as a bulk order. Please follow these directions carefully:
1. Go to https://store.hslda.org/all-c19.aspx.It should look like this: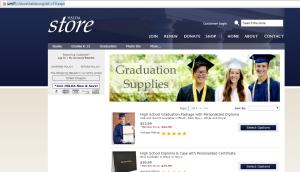 2. Click "Select Options" for the "High School Graduation Package with Personalized Diploma." The new page should appear like this: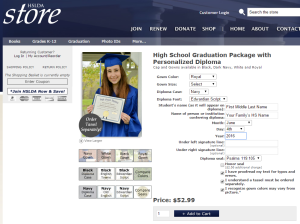 3.Make the following selections:
Gown Color: "Royal"
Gown Size: Select based on graduate's height
Diploma Case: "Navy"
Diploma Font: "Edwardian Script"
Student's Name: Carefully insert graduate's full name
Institution: Carefully insert your preferred home school name. For example: "Smith Home School", "Jones Family Home Academy," or similar
Month: June
Day: 2nd
Year: 2018
Signature Line: RRHE traditionally leaves these unlabelled. Putting a label such as "Principal" or "Teacher" is your option. It is fine to leave this blank.
Diploma Seal: Psalm 119:105
Proof read your selections and check that you have done so.
Check that you know the tassel must be ordered separately – RRHE will order them
Check that you recognize colors may vary from the picture.
4. Select "Add to Cart" and your order will appear to the left like this → 
5. Where it says "Enter Coupon" put RRHE18Graduation.Then select "Checkout".
6.This will bring up a log in window. If you are an HSLDA member, simply log in. If you are not a member and have never shopped with HSLDA, you will need to register. Click "NonMember" and then select "Click Here to Register." You will need to fill out the highlighted fields and create a password. Then "Submit Securely."
7. On the payment page you need to select "Check or Money Order". This will ensure you can order without paying.
8. Under "Special Instructions" insert "RRHE Graduation".
9. Check the "I Agree" box at the bottom of the page and then select "Submit Order."
The caps, gowns, and tassels will be distributed at a time and place yet to be decided. You will be notified by the March 12 Mandatory Meeting.