Meet Matthew Clark
Matthew Clark is Senior Counsel for Digital Advocacy with the ACLJ in the Washington, D.C. headquarters. Matthew Clark has authored numerous articles for such publications as the Washington Post, the Washington Times, and the Washington Examiner on critical constitutional and policy matters facing our nation and the fight for human rights worldwide. He is also a Contributing Editor at RedState.com. In addition, he currently serves as a Senior Research Associate for the Oxford Centre for the Study of Law and Public Policy, which held its inaugural symposium on human rights issues at Harris Manchester College, University of Oxford.
Prior to rejoining the ACLJ, where he clerked while in law school, Matthew Clark served as Judicial Law Clerk for the Honorable Walter S. Felton, Jr., Chief Judge of the Court of Appeals of Virginia. Matthew Clark earned a Juris Doctor and Master's Degree in Public Policy from Regent University where he served as the Founder and Editor-in-Chief of the Regent Journal of Law and Public Policy.
Matthew was homeschooled K-12 and was the first student granted "Religious Exemption" in Henrico County.  He played competitive basketball and softball for the West End/Spirit homeschool sports teams through middle and high school. He was the founding president of a Speech and Drama 4-H Club for homeschoolers in Henrico, and was on the first majority-homeschool Henrico LifeSmarts team to win the state LifeSmarts competition and advance to nationals. After graduating from homeschool, he attended Palm Beach Atlantic University where he double majored in Pre-Law and Political Science, graduating Cum Laude. 
Matthew Clark is a member of both the Virginia and District of Columbia bars as well as the bar of  the U.S. Supreme Court. He and his wife Megan homeschool their five children in Northern Virginia.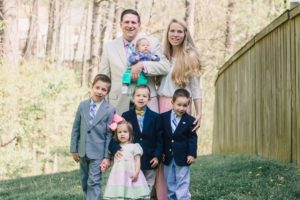 American Center for Law and Justice (ACLJ) Founded in 1990 with the mandate to protect religious and constitutional freedoms, the American Center for Law and Justice (ACLJ) engages legal, legislative, and cultural issues by implementing an effective strategy of advocacy, education, and litigation that includes representing clients before the Supreme Court of the United States and international tribunals around the globe.
Matthew Clark, wife Megan, and their 5 children.